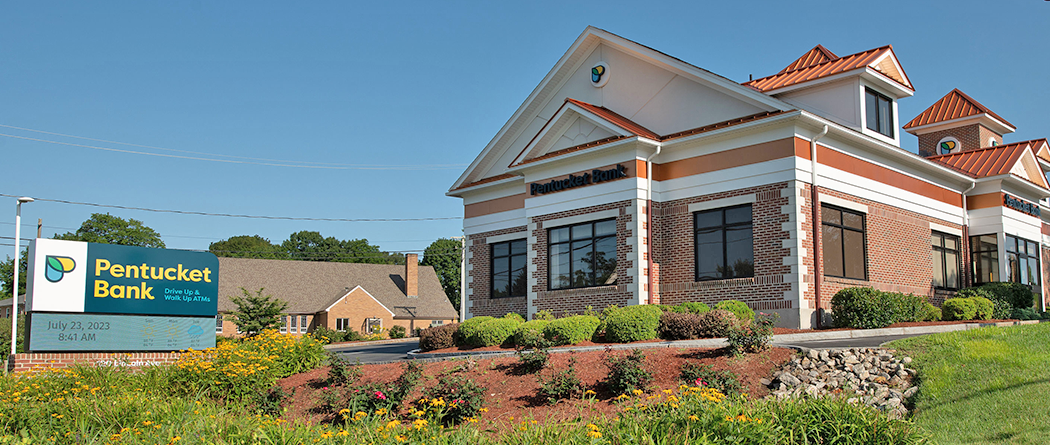 Stadium Branch Expansion Project Update
It's an exciting time to be a customer of Pentucket Bank!
We are pleased to announce the renovation of our Stadium Branch, located at 120 Lincoln Avenue, Haverhill, MA.
The primary goal of the Stadium Branch Expansion Project is to offer you an enhanced retail branch experience customized to fit your preferred method of banking.
Once completed, we look forward to offering you:
Newly-designed and welcoming teller stations that will allow you and your banker to collaborate during your branch visit.

The opportunity to enjoy a digital banking experience right in the Branch.

An open and inviting branch lobby, including space to provide you with the latest information about products, services, and other useful banking and community news- so you'll always be in the know!
Construction is scheduled to begin July 24, 2023, upon which date the Stadium Branch will be temporarily closed.  This means there will be no banking services offered at this location until the project is complete, including access to the Branch lobby, Drive-Up, Night Drop, and both ATMs. We expect to reopen the Branch later this year. We apologize for any inconvenience.
You may schedule an appointment to access your Safe Deposit Box during construction but clicking the button below.
During construction, our Stadium Branch Team will be working at one of our other Branch locations and may be contacted by calling their usual direct extensions. All of our other Branch locations will remain open with regularly published hours. 
Our nearest Branches are just down the street, and our team members look forward to assisting you with your banking needs:
Thank you in advance for your flexibility during this exciting time. We look forward to welcoming you to the newly-renovated Branch later this year. 
Amanda McCafferty will be working at the Merrimack Street Branch.
View Merrimack Street Branch & Hours >
Alexa Brown will be working at the Hampstead Branch.
View Hampstead Branch & Hours >
To request an appointment contact the Branch directly or click the button below.
---
About Pentucket Bank

Established in 1891, we are a community bank offering a full suite of products and services for all your personal and business banking needs, as well as investment services for a personally tailored financial plan. Our products and services include:
Personal


Business

If you have not yet had a chance to meet one of our talented staff members please stop by one of our convenient 
branch locations
 or give us a call at (978) 372-7731 and experience what we like to call "The Pentucket Bank Difference."


Our Certified Financial Planner
TM
can help you manage the complexities of your personal and business needs.
Learn more about the investment tools
that can help you achieve your financial goals.