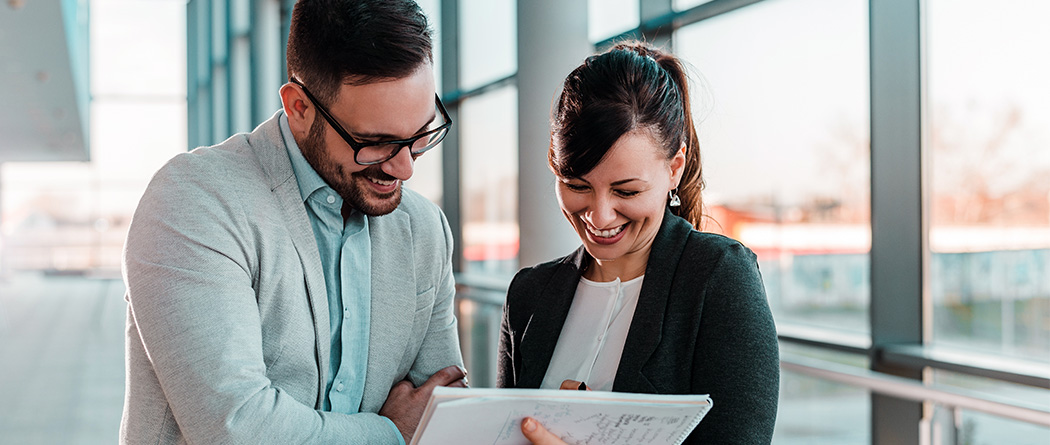 Business Checking & Savings
Your checking account is the heart of your business finances. Choose
a solution tailored to your needs and goals. Our accounts feature
tools, such as Online Banking and Visa® debit card, that give you
around-the-clock access to your accounts for optimum efficiency. When you commit to saving, you get on the path to a brighter, better future. Our accounts make saving easier. Open one and see for yourself. 

All our accounts include:
ONLINE BANKING WITH BILL PAY

MOBILE BANKING WITH CHECK DEPOSIT

BUSINESS VISA® DEBIT CARD

MOBILE WALLET - APPLE PAY®, GOOGLE
PAY® & SAMSUNG PAY®
Accounts
Small Business Advantage
Business Advantage Plus
Commercial Advantage
Business Now Advantage
Non-Profit Advantage
Business Statement Savings
Business Emerald Money Market
Best Used For
Accounts clearing less than 100 items (check & ACH) per month. Unlimited free deposits
Accounts clearing up to 300 items (check & ACH) per month. Unlimited free deposits
Accounts with high volume activity
Tiered interest rate account for qualified businesses
Available to non-profit organizations
Segregation of funds and interest earnings
An interest bearing account with tiered rates to maximize your earnings while keeping your liquidity
Minimum to Open
$25
$25
$25
$25
$25
$10
$10
Monthly Service Charge

None

(.50 cents per excess debit item over 100)

None,
if $5,000 average daily balance maintained, otherwise $20 fee.

(.50 cents per excess debit item over 300)

$15 plus per item charges. Earnings credit may offset charges
$12 if $5,000 Minimum Daily Balance is not met
None
None
$10 if $1,500 Minimum Daily Balance is not met
Not sure which Pentucket Bank Business Checking Account is right for you?
Or call us at 978-372-7731.
---
New Government Rules on Business Accounts

We want to make you aware of some changes to the business account opening process that are the result of federal rules changes. On July 11, 2016, new rules under the Bank Secrecy Act went into effect. These new rules aid the government in the fight against crimes to evade financial measures designed to combat terrorism and other national security threats. All banks must implement these changes and Pentucket Bank will be doing so effective April 1, 2018, in order to meet the May 11th, 2018 deadline.